If you have ever thought about building and running a successful roofing business, you are not alone. Having a flexible schedule, being your boss, and enjoying more of the financial rewards that come with roofing company ownership are excellent reasons to build your own roofing company. 
Every successful roofing company started with a passion and drive. Even business moguls like Warren Buffet, Bill Gates, and Jeff Bezos began building their business from zero. It's one thing to work in a profession you enjoy, but it is a whole different story turning that profession into a successful roofing company that supports your employees, you, and your family. 
Running a successful roofing business can be daunting. And that explains why so many roofing companies shut their doors even before they get started. Yet, running a successful roofing company is not challenging when you can avoid and spot the pitfalls. 
A Step-by-Step Guide on How to Start a Roofing Company from Scratch
Building a roofing business from scratch does not have to be complicated or hard, but it requires some work and planning. Here are the most crucial ten steps to follow when building a roofing company from scratch.
Step 1: Research Your Target Market
As a new roofer on the block, you need to research your market carefully. Try as much as possible to discover the level of demand for your roofing services and how your rivals are trying to satisfy that demand. Knowing what your competitors already know won't cut it. Dive into your target market and analyze it like a pro. Search for keywords that are related to the roofing industry. Don't fret if your target market seems flooded. You can use this as your competitive advantage. It implies that if it is working for other roofers, it can still work for you. It also means that there is money to be made here.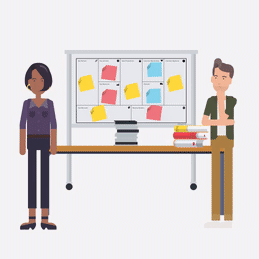 Step 2: Write a Plan for your Roofing Business
I know this is not the "most fun" part of starting your business, but a crucial step in building a successful roofing company. A clear business plan is vital for success as a roofing contractor. It will assist you to discover the specifics of your roofing business and unearth some unknowns. Here are some questions that you need to answer in your business plan.
What Are the Costs involved when starting a Roofing Company?
Though you can start your roofing business in your compound, extra space will be required as your business grows. Storage space to keep your roofing materials must be available. Additional expenses include renting/purchasing an administrative office to paying for high-speed internet, labor, and utilities cost. Workers and liability insurance costs must also be paid. Other recurring expenses include employees' salaries, office supplies, and internet costs.
Is the Roofing Business Profitable?
Yes, roofing is a lucrative venture where you can make a six-figure profit after a few years of operation. Roofing contractors who have been in business for several years can make thousands of dollars in profit every year. Expand across states, the nation, and counties, and your roofing business will make millions of dollars in profits each year.
How Will You Make Your Roofing Company More Profitable?
The key to increasing your roofing company's profitability is to reduce the cost of material and labor while securing a stream of new leads/ clients. Establish your offline/online reputation as a high-quality roofing contractor, and you will start to charge more than your competitors for the same services. Experienced roofing contractors have a lot of knowledge and skills that property owners are willing to pay for. If you have a dumpster that you don't use all week long, you can consider renting it out to another roofer who does own one. If you have a storage/office space that you don't use in full, consider renting it to another business owner.
How do you choose a Name for Your New Roofing Company?
Naming a new roofing business can feel as daunting as naming a newborn or a puppy. Fortunately, we had already published a guide on choosing a roofing company name that can help you along. In the meantime, keep these tips on how to name your roofing business in mind;
-Avoid names that are too long and difficult to spell.
-Make sure that your preferred name is not being used by other roofers online or offline
-Think of how your name will appear in your website URL and social media platforms.
It would be best if you considered your business plan as an outline of your company. A good business plan should contain the following information: 
Executive Summary:

 This explains your roofing business services and the problems it solves for the consumers.

Market Evaluation

: This should discuss the market you are serving.

Marketing strategies:

 How will you dive into the market and sell your roofing services/products?

Operational plan

: this outlines the day to day operations of running your roofing business.
Step 4: Form a Legal Entity
You need to establish a legal business entity like LLC, which prevents you from being personally liable when your roofing company is sued. You can opt to choose several roofing business structures, including partnerships, corporations, sole proprietorship, DBAs, and LLC's. Your accountant or financial adviser will select the one that is appropriate for you.
Step 5: Register for Taxes
If you are starting a roofing company, the IRS website is the best place to understand the various state and federal taxes affecting your business. Start by checking with the IRS's Small Business and Self-employment center. Furthermore, you need to check the tax obligations required by your respective state.
Step 6: Open a Separate Bank Account and Credit Card for Your Roofing Business
Opening a separate credit card and bank accounts for your business are crucial personal assets protection.
When your business and personal accounts are mixed, your valuables (such as your home or car) are at risk if your roofing company is sued. This is what is referred to as piercing your corporate veil.
Step 7: Get the Necessary Permits and Licenses
Failure to obtain necessary licenses and permits can lead to hefty fines or closure of your roofing business.
Local and State Business Licensing Requirements
Specific state licenses and permits may be required to operate a roofing company. Know more about licensing in your state by visiting SBA'S reference to state licenses and permits.
Service Agreement
Roofing contractors must request their customers to sign a service agreement before they begin a new project. This agreement spells out customer expectations and reduces legal disputes by spelling out payment conditions and terms, intellectual property ownership, and service level expectations.
Certificate of Occupancy
You can operate your roofing company out of a storefront. A roofing business that operates out of a physical location needs a certificate of occupancy. This certificate confirms that all zoning laws, government, and building regulations have been satisfied.
Step 7: Get Insurance
Just as with permits and insurance, your new roofing business requires protection to operate safely and lawfully. There are various kinds of insurance policies created for different types of companies to cover unexpected risks. If you are not sure about the kind of risks your business may face, you need to start with general liability insurance. Another notable insurance policy associated with roofing businesses is worker's compensation insurance. If your roofing company has employees, then most probably, your state will require to have a workers' compensation coverage. 
Step 8: Market and Promote Your New Roofing Business
Why should a property owner select you to install or replace their roof?
That's a significant question if you want to build a successful roofing business. And the answer lies in your roofing marketing. But if you are just starting your roofing business, it can be daunting to know where to start. Fortunately, this post will discuss crucial roofing marketing strategies that will help your business nurture trust, generate referrals and earn more clients;
Create a Stunning Roofing Website to Market Your Business 24/7.
Your roofing website should act as your virtual sales representative 24/7/365 and generate a stream of qualified leads. How you create and use your site will influence your roofing marketing activities-but just building one will not skyrocket your roofing sales automatically. If you want your roofing website to market your business online, it needs to have these four main things:
It needs to be super-fast:

 The average client expects your web page to load in less than three seconds.

It must be Functional:

 Roofing websites should be appropriately coded for SEO, which implies adding structure to the site with metadata like optimized images, schema, Meta, and title tags.

Your roofing website needs to be mobile-friendly

: Over 50% of overall U.S. traffic comes from tablets and smartphones.

It must be secure

: More than 40% of all roofing websites that appear on the first page of Google are HTTPS, which is why Google has confirmed that it favors secure sites over unsecured ones.

It needs to provide helpful Quality Content

: A significant ranking factor lies in the quality over your website's quantity.
If your website is missing any of the above features, you need to partner with a reputable roofing website design agency like Blackstorm Roofing Marketing. 
Boost Your Roofing Website Conversion Rate with a Redesign
One of the best ways of increasing your roofing website conversion rate is by requesting a website redesign from our experts. Our experienced web designers will work round the clock to ensure that your websites generate more qualified leads and skyrocket your roofing sales.
Maximize Your Reach on Google
To get more roofing clients/leads, your business needs to appear on top of the Search Engine Results Page (SERP). 
Here are some tips that will help you to stay off Google results:
Use keywords strategically

Incorporate featured snippets

Get quality online reviews

Make sure that your Google My Business Listing is accurate and complete

Stay on top Google Algorithm updates

Leverage Local service ads.

Create profiles on directories like Yelp, Angie's List, or Thumbtack. 
As a roofer, we understand you are busy managing your employees and sourcing materials, making it daunting to optimize your roofing website for search engines on your own.
The good news is that Blackstorm Roofing Marketing has a team of experienced roofing SEO professionals who can help your roofing website rank on the first page of Google and outshine your competitors online.
Invest in Paid ads to Increase Booked Roofing Jobs
Pay per Click advertising allows roofing businesses anywhere to be found on the first page of the Google search results. It is digital marketing where roofers display ads and pay the advertiser once their ads are clicked. The two significant advantages of PPC are controlled relevance and visibility.
Use Social Media Marketing and Remarketing
Once you have created your roofing website and started getting some traffic, make sure that you remarket your roofing services to potential clients who did not contact you. This implies that showing them ads even after they have navigated away from your site. This is important because most prospects will not contact you on their very first attempt.
Social media marketing is also a great option. With a combination of internet marketing and some local service ads, you can target a customer directly with a new client offer.
Manage Your Reputation Online and Offline
When it comes to selecting a roofing company, reputation plays a critical role. After all, no property owner wants to work with a roofing contractor who does a shoddy job, does not meet deadlines, or does not stand behind their promises.
Word-of-mouth recommendations are still a significant factor in how commercial and residential clients select a roofing contractor. To take advantage of these positive recommendations, ask your happy clients to refer you to their relatives and friends.
Online reviews are critical too. You need to make sure that you earn more Google reviews and respond to the reviews you obtain. If that sounds too hard for you to do, make sure that you partner with Blackstorm Roofing Marketing to manage your roofing company reputation offline and online.
Make Money from Bad Weather
By targeting your roofing marketing to local and seasonal needs, you can create campaigns in response to weather events and make some dollars from the bad weather.
Based on the country's region, your roofing company is situated, your clients may need rain gutters to deal with heavy downpours or rain barrels to save water. Property owners might need lots of roof after severe windstorm damage or before a significant rain is predicted. These are just a few examples where marketing and business activity can correlate with the weather. 
Pay-per-Click ads can help you make most of the bad weather. Such ads provide a great way of targeting both seasonally and locally.
The Bottom line 
If the above tips seem so hard to implement on your own, don't fret because you are just other roofing contractors we have helped over the years. Your primary focus should be on running your roofing business and leave the rest to us. If you need help in getting more leads and sales from your new roofing business, kindly schedule a free strategy session with our growth experts for assistance today!