Many prospects that land in your roofing website end up abandoned, sales dropped contacts, and incomplete conversions. Facebook and Google provide remarketing tools that help your business market your services and products aggressively to attract more conversions. Once a potential client visits your roofing website, remarketing tools analyze their behavior and present ads at other moments to improve their user experience. This results in more promising leads and significant connections. This post will explain everything that roofers need to know about Google Tag Manager.
What is Google Tag Manager?
Google tag manager is a great tool that helps roofing contractors gauge how their website performs, like what areas need improvements, what areas are generating good results, or generally an overview of your website's functions. It is a management system developed for HTML and Javascript tags used to track your roofing website's performance. 
A thorough understanding of the Google Tag Manager requires some experience in coding and roofing website design. The tag manager helps to track all your roofing website performance under one dashboard.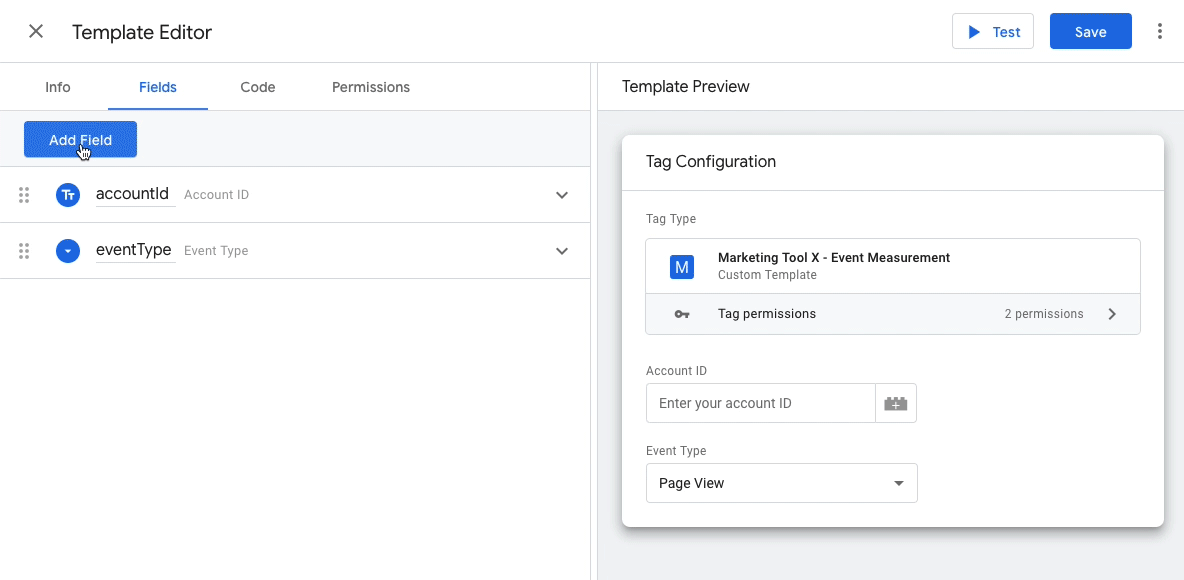 Basi

c Google Tag Manager Terms that Roofers Should Know
As a roofing contractor, you need to know what is working in the digital marketing space to make an informed decision. Without further ado, let us explain a few definitions and terms that pertain to the Google Tag Manager.
Containers
Synonymous with the account structure in Google analytics, a roofer can create a GTM account to manage multiple mobile apps or roofing websites. When managing individual properties, roofers will create what is referred to as containers.
A container serves as a method of grouping tags. Using the Google tag manager interface, roofers can incorporate all the supported tags in one container.
Think of a container like a shopping basket where you throw all the items you want to purchase. Within the Google tag manager, you can find the snippets that you can apply throughout your site. 
Tags
Tags have various uses, including monitoring form submissions, generating heat maps, conducting surveys, putting cookies that help in retargeting, and tracking how clients interact with your site.
Tags can also monitor particular events or actions customers take, like downloading files, adding items on their cart, or clicking on specific links.
Roofing websites often leverage multiple tags, and they normally hire developers to manage them. With Google Tag Manager, roofing business owners can disable, edit, or add tags right from the GTM interface, thus eliminating the need to hire web developers.
Triggers
Triggers (aka rules) are conditions that, once met, tell your tag to fire or activate. Clients' actions taken on your websites-commonly, referred to as events-can only be analyzed using pre-determined triggers. Common events that will cause triggers to include page views, form fills, and link clicks. Triggers within the GTM interface automate your tagging efforts, and thus roofers can spend less time adding tags to their roofing website.    
Filters 
After defining the kind of tags you want, you can refine your results further with filters. Categorized into "values" and "operators," these factors are particularly tailored to the trigger.
Operators

 define whether a numerical event is important enough to cause a trigger; for instance, greater than ten or less than two. Operators normally specify when a tag should fire based on a certain event like time spent on a web page or number of successful clicks.
Values 

specify when a tag should be fired based on a satisfying condition. It may contain a particular URL or words like "thank you."
Variables 
These set conditions signify when a trigger should make a tag to fire, containing details that a trigger requires to evaluate beforehand.
Why Should Roofers Use the Google Tag Manager?
Here are the several advantages that roofing contractors can enjoy by setting up and installing Google Tag Manager in their websites:
Google Tag Manager Eliminates the Hassle of adding Tags to your Roofing website.
Before the Google Tag Manager was invented, every time a tag required is editing, adding, or deleting, a website developer had to be outsourced to hard code the roofing website. The Google Tag Manager container code can contain various analytics and marketing tags placed on your roofing website's pages. This means that you only require a few clicks to remove, add new tags, or edit, and you can perform all these tasks in a user-friendly GTM interface. Google Tag Manager has made the process of adding tags easier since they are controlled from one place. 
Google Tag Manager Reduces Reliance on Web Developers 
By far, the major advantage of Google Tag Manager is that it helps roofing contractors implement tags without relying on website developers. Website developers are usually occupied with high priority projects, so they may not have all the time to help with your tagging needs. But since the Google Tag Manager helps you bypass the source code, you can quickly edit or add tags.
Google Tag Manager Makes Tracking of Your Roofing Business a Breeze
Google Tag Manager helps roofers perform the same task that took several days or weeks within minutes. It comes with various built-in functions and tags that make tracking of your roofing website a breeze. 
Google Tag Manager is Pretty Easy to Use
This is one of the major perks of the Google tag manager; no prior programming experience is needed. Roofing contractors can easily add tags, make updates, deploy tags, and test every change without requiring performing complex website coding. This provides autonomy to your team and streamlines the process, thereby improving the launch times, thereby giving your IT department enough time to concentrate on crucial matters like why your roofing website is so slow. 
GTM saves time
Google tag manager saves roofers time by allowing them to track the codes on their own. You don't need to hire a marketer to send the tracking code to a developer, only to have it installed a week later since the developer was too busy with other projects. Roofers don't have to email back-and-forth when they require tracking other events during the week. All tracking codes (also known as tags) can be deleted, edited, or added via the Google Tag platform. 
It is Free!
Before we forget, Google tag manager is free and is ideal for small and medium-sized roofing businesses. However, large roofing companies can upgrade to the premium version of the Google tag manager.
Make Your Life Easier By Partnering with Blackstorm Roofing Marketing Today! 
The learning curve of understanding Google Tag manager is steep; however, once you master the basics, tracking all your marketing activities becomes a breeze. Fortunately, the Blackstorm Roofing Marketing team can manage website analytics and events tracking on your behalf and deliver a simplified data analysis to see the progress you are making on your roofing business. Here are some of the common events that we will track on your roofing website; 
Engagement with maps:

 we will monitor how often customers with a Geo-map embedded in your roofing company location.

Form Submissions: 

Tracking the number of clients that submit a subscription or contact form. 

YouTube Views: 

 Monitoring the number of website visitors who play the video embedded on your site.

Clicks on External links: 

 Tracking the number of visitors who click on your social media profile or on Yelp to review your business.
At Blackstorm Roofing Marketing, we aim to provide a substantial ROI for our clients by utilizing the data provided by Google Analytics and Google Tag Manager to hone, revise, and improve your roofing website regularly. 
Google Tag Manager Installation 
For optimal results on your roofing business website, professional Google Tag Manager is always recommended. Blackstorm Roofing Marketing is ready to offer expert implementation, planning, and management of your GTM efforts to ensure that you get the most leads from your roofing website. However, our services don't end here. We also provide search engine optimization, pay per click, retargeting, reputation management, and website design services to make sure that we cover a full spectrum of digital roofing marketing so that qualified leads can be generated through multiple platforms. 
Social Media Tag Management  
Facebook also provides a remarketing tagging option that allows roofers to remarket to prospects who have visited your roofing website, Instagram, or even Facebook page. This increases your conversion rates and increases the chances of making a roofing sale. The Blackstorm Roofing Marketing team has the know-how and experience to manage your social media remarketing and tagging campaign for increased company website traffic, advertising return, and awareness.
Custom Google Tag Manager Installations can also improve tracking performance and the online system's performance. Basic installations do not allow variables or event tracking and remaining of data layers. Thus, investing in a roofing marketing company with an in-depth knowledge of GTM, along with JavaScript and HTML code, is highly recommended. 
When you consider all the Blackstorm Roofing Marketing team's benefits, you find a roofing marketer that can achieve as much at a competitive price.
If you need a partner to manage all your online marketing campaigns, please schedule a free strategy session with our growth experts to get started today!