Phonebooks to Smartphones
Two decades ago, consumers used to find their local businesses using a local phonebook. They would look for a specific business category then filter through listing and ads to grab the reader's attention. Today, a client does not require a local phonebook, but a Smartphone can accomplish all those tasks within a minute. The good thing with these Smartphones is that they are relatively small and can comfortably fit in your pocket.
Now, when you are hungry or tired, and you have visited a new town, then a Smartphone will help you gather as much information as possible about local businesses. If you have an iPhone contact, your friend Siri or when using an Android contact your buddy Google Assistant to find a restaurant near you. Within a few seconds, you will obtain a list on your phone showing the Name, address, ratings, reviews phone number, opening and closing hours, website, and more details of nearby restaurants.
That's how many people are conducting their searches nowadays, and it is not restricted to restaurants alone. People are also doing it for Roofing sites as well as roofers, contractors, chiropractors, stores, and much more. Typing your requirement, mainly when you are hungry and tired takes some action. Speaking out your clear instructions to your Smartphone is simple.
Desktop Computer Search
As of April 2019, Google had occupied more than 88% of the search engine market while the rest shared only 12%. (Source) So it's prudent to say that if you are investing in listing your business then make sure that Google features on top of your list.
Google Desktop Search
Many people don't even select the search engine they intend to use. They "Google it." Google is the leading search engine in the U.S and for good reasons. They have invested heavily to develop a search engine that gives the best results, faster. As of today, Google is the largest search engine, as well as the most famous one. It is also one of the top five most famous sites in the world. Google produces results for over 5.4 Billion searches every day.
Small or Medium-sized business plays a vital role in growing the US economy, and Google took note of that information. They synchronized search capabilities with Geo-location and proximity aiming to develop customized local search results for users.
Local search leveled a playing field for all businesses, as users could now find their services or products based on how far they were from them. Google offered clients with the best results that were based on both geo-proximity and search intent of the location where the search was conducted. These customized results have made Google be a go-to medium for all your local search needs.
Upon attaining this milestone, Google developed it further by combining Google Map platform with local search results. This helped users to explore local businesses using their Smartphone. With this, Google was able to assist users in navigating their way to any destination.
How to Add Your Roofing Business on Google Maps
While there are various ways to improve and monitor GMB performance, to begin, you need to set up a simple profile that people will use to find your business. Google My Business (GMB) is a crucial aspect of local SEO that should not be neglected.
However, you need to keep your listing data up to date and accurate. Research statistics show that 50% of customers visit a business or an online store after conducting a local search, like restaurants near me and that 80% of clients lose trust in your local business if they note any incorrect or inconsistent details about your business online. Therefore, you need to make sure that your Name, Address or Phone number are consistent and accurate in all your listings, Including GMB.
(How To Get Your Roofing Business On Google Maps)
How Many People Actually Use The Map On a Google Search?
The local pack is the second most clicked-on SERP type, followed by PPC adverts appearing at the top of the page. Accounting from 30.8%-34.6% of all clicks on a local search.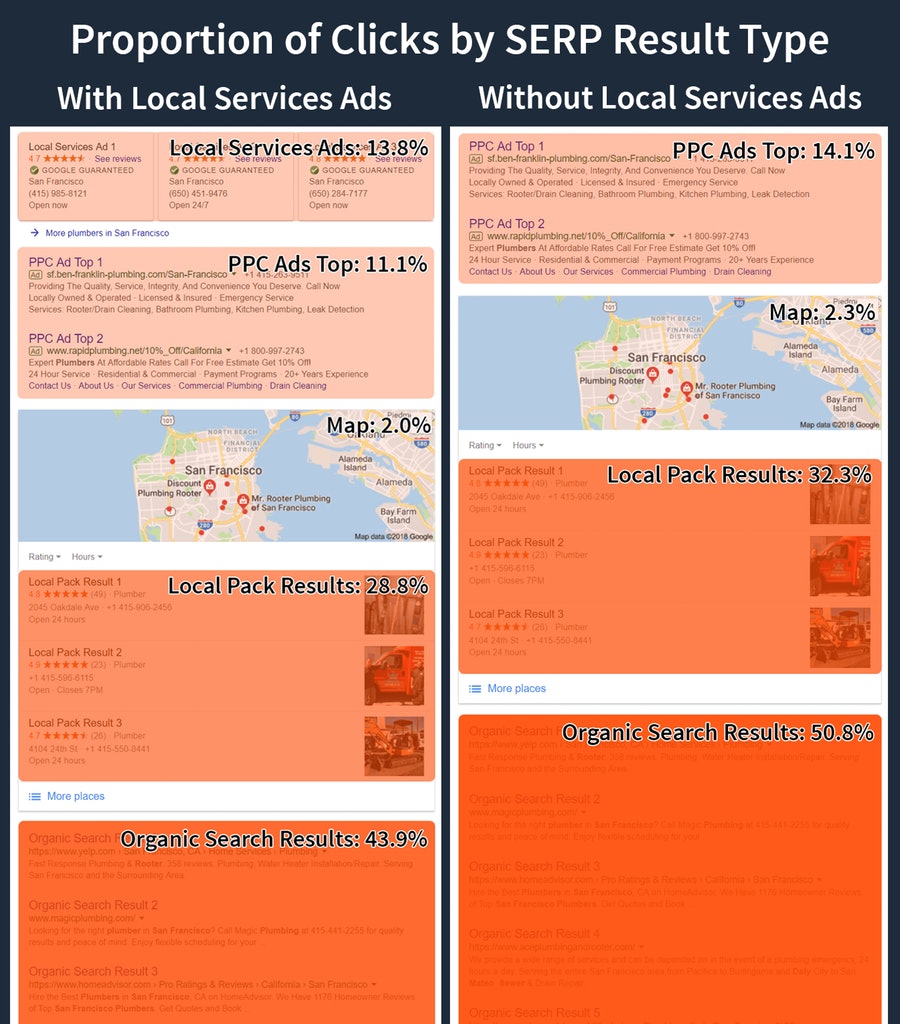 [av_one_half first av_uid='av-gb54h']
Why Do People Click on Results in the Local Pack?
The above chart represents the proportion of testers who chose a Local Pack result, split by their reasoning for doing so.[/av_one_half]
[av_one_half av_uid='av-7p6y1′]
Why Do People Click on the Map?
The above chart represents the proportion of testers who clicked on the map above the local pack results, split by their reasoning for doing so. 
While map clicks only contributed to a small proportion of overall clicks, it's interesting to see that the area and distribution of the map both outweigh the fairly prominent position of the map in local SERPs as reasons for clicking.[/av_one_half]
Why Apple Maps Matter for Your Business
If you operate a small business, make sure that you are taking advantage of local opportunities when customers request Siri for information about the services you provide, ensure that your business is added to Apple maps.
Apple maps have more than 42 million users worldwide. Voice search (using assistants like Siri) accounts for more than one billion searches every month, most of these are for local requests. This implies ensuring details about your business are found in Apple Maps may help potential clients locate your business. It also means that if your business is not listed on such maps, but your competitor is, then they will obtain that client.
Apple's Maps Connect allows small business to edit and submit their map listings without contacting apple. The process f adding your business to Apple maps is similar to that of Google Maps only that here you are using an iPhone instead of an Android phone.
Smartphone Search (iPhone vs Droid)
In 2018, more than half of site visits came from mobile phones.
Everyone has his/her reservations on whether to choose either an iPhone or an Android phone. Where do you think your business is getting all the businesses lists that show up in the search results? Of course, many people use Google to perform their local search. There are two leading search navigation apps, namely Apple maps and Google Maps.
iPhone Navigation History
For close to seven years, Google maps were used on all Apple products- until 2012 when apple launched competing software.
Immediately after Google maps were removed as default installation on Apple products, they were availed as a free download on the App store. Over time, Google maps became the most popular app in the Appstore platform. While the two apps are the same in terms of cost and function, they have notable differences that might affect the mapping service you select.
Apple Maps are popular navigation apps used by many people across the world. The number of users is growing almost every day. The app is gaining some traction as an effective alternative to Google maps.
Apple Maps collects its data from somewhere else.
Do you know where Siri obtains the information it gives you? Very easy, Siri can access both Yelp and Apple maps. You can develop a simple business listing on Apple maps which later pulls details from Yelp such as pictures and reviews. (How to Create an Apple Maps Listing)
Yelp is a popular online platform that helps users to discover local businesses that range from restaurants, bars, gas stations, and plumbers. It encourages users to leave reviews, give star ratings, and share pictures that portray the kind of experience they had upon visiting your local business. Every Yelp account has a list of friends that can be populated by integrating to your Facebook account. Reviews posted by Yelp users can be reviewed again by other platform users, and you can ultimately be awarded a Yelp Elite Status if you review stands out from the rest. (How To Add Your Roofing Business To Yelp)
Droid phones
Droid phones naturally use Google Maps as their original navigation app.
67% of Smartphone Users Prefer Google Maps, Will They Find Your Business There?
A recent survey has shown that Google maps are the market giants in regards to navigation apps. The report further indicates that Google maps are 6times famous than all the other navigation apps available in the market. The survey was conducted to show how mobile navigation apps are essential in attracting clients. As a small business, listing your enterprise on Google maps or any other navigation apps will help customers to find you easily when performing a local search online. If you want to succeed in online business, then make sure that your company features on both Roofing Google maps and Apple maps.
Your Customers Are Searching Locally, Who Will they find?
More than half of Google users are looking for Local Search Results. This means that there are people who are prepared to pay for your products or services as long as you will be found online through local search. If those clients find your competitor instead of your business, then that means you have lost a potential sale, and this gradually leads to your business decline over time. So you must improve your search results as much as possible.
We are local roofing SEO specialists that will help your website be seen by potential clients. We will partner with you to develop a regional marketing strategy that will boost traffic to your business site. This will make you enjoy higher conversion rates and increased profits. We specialize in local Roofing Google map optimization services that will skyrocket your business site traffic.
When clients are looking for Local Roofing services, they employ specific keywords. We know how to boost your rankings for particular keywords and make your Roofing business more visible to clients. This implies that your business will be locally relevant, and you will be successful in your marketing campaigns.